How to Customize Your Swing Set
---
Customizing a swing set from scratch may be the best way to ensure your kids have the perfect outdoor play experience. While there are a variety of swing set products sold online today, many lack versatility and have limited options of play. Here at Creative Playthings, we offer the ability to build your own premium, custom swing set from the ground up, exactly as you want it!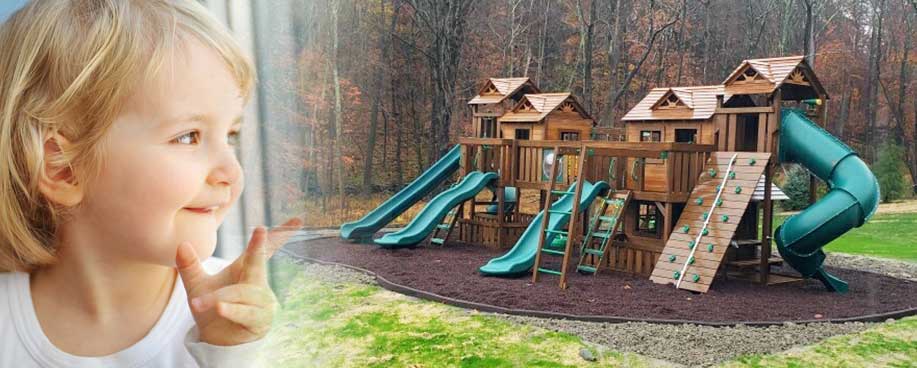 Our trained swing set experts will guide you through the customization process to ensure your swing set can grow with your family, work well for your yard, and stay within budget. Keep reading to learn how to customize the perfect swing set for you!
Choose Your Gym
At the heart of every Creative Playthings swing set is a "Gym." This is a two-story play structure that comes with an access ladder and a slide. It is also where accessories like the rock wall, additional play decks, and swing modules attach.
Add a Swing Set Module
Now it's time to get into the swing of things!

Our Signature Swing Beam

is the sturdiest on the market as it is four bonded pieces of Southern Yellow Pine, rather than one solid beam. This allows for maximum strength, safety, and durability. Our swing modules are available in two heights, 7 foot and 9 foot, each coming with three sling swings and one trapeze.
Double the Fun
If you are looking for a bigger swing set, you may be interested in one of our "Combo Sets." Every Combo Set consists of two separate gyms connected by a crawl space or a bridge. The result is a spectacular sight and one that provides endless hours of play.
Choose Your Accessories
We have a variety of accessories to enhance the fun! Some of the most popular include a

 

Rock Wall, Picnic Table, Binoculars and Monkey bars.

Check out all of our accessories here.
---
With Creative Playthings, the options are endless. While you can create your own swing set from scratch, we also have more than 90 pre-designed swing set plans that you can choose from and make your own.
Interested in one of our custom swing sets? Contact your local swing set expert today!