 We know that every kid is unique, and no two backyards are exactly the same. That's why we have specially designed our Premium Pine line of Swing Sets to be customizable. This modularity gives our customers the freedom to mix an match our many Play Towers and Accessories, to create the very Swing Set their kids have been dreaming about! With so many fantastic options, the possible configurations are countless!

Here we will walk you through the process. Every Series within the Creative Playthings Premium Pine category has it's own uniquely dimensioned Gym.

Sometimes called a "Play Tower" the gym is the central component of every Premium Pine Swing Set and comes complete with an Access Ladder and Slide. If you aren't interested in adding swings, every Premium Pine Gym can be purchased as a stand alone play structure. No matter which you choose, either of our Swing Beams will transform any Creative Playthings Gym into a bonafied Swing Set! These modules are 4 position which means that there's room to accommodate four swinging accessories!

Creative Playthings Swing Beams come in two heights. As kids grow they usually like to swing higher, but know that whichever height you choose, every 4 position Swing Module will include the following: (3) Sling Swings & (1) Ring Trapeze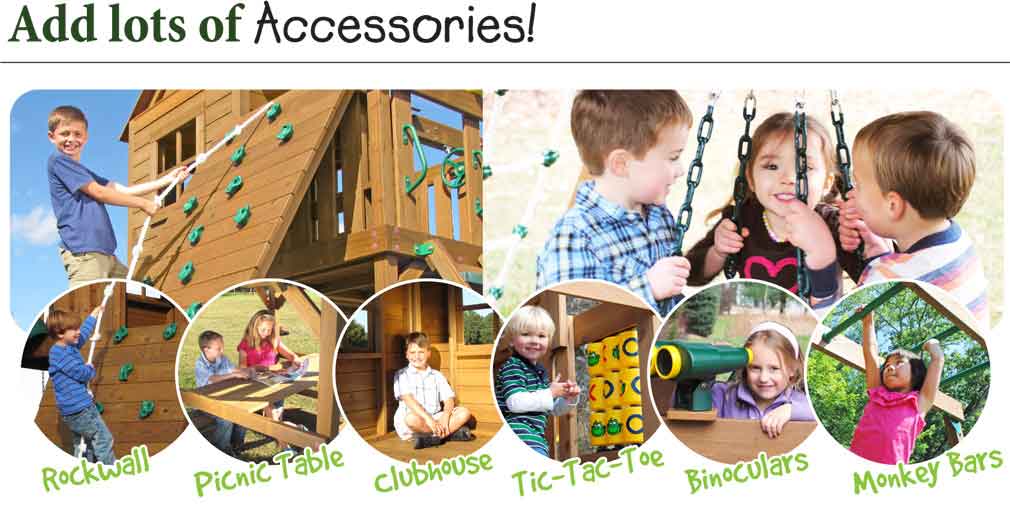 After you have selected your Creative Playthings Gym and Swing Module is really when our concept of "Countless Configurations" comes into play! Do you want a Clubhouse or a Picnic Table? A Rock Wall or an extra Slide? Two extra slides? Three? These are the choices that are almost as fun to make as the set will be to play on! If you are looking for an even bigger Swing Set, you may be interested in one of our Combination Sets. Every "Combo Set" is comprised of two separate Gyms connected using a Crawl Tube or Connecting Bridge. The results are endlessly diverse and more than often, breath taking! If you have limited space, consider a Space Saver! These sets include a Rock Climbing Wall & eliminate the need for a standard swing beam since two swing positions are built right in! Williamsburg Space Saver Set: 10ft. x 12ft. x 12ft. high. Lexington Space Saver Set (shown above right): 10ft. x 14ft. x 12ft. high

We also offer the Concord, a free standing 4 position swing beam that includes (3) Sling Swings and (1) Ring Trapeze. The Concord (shown above left) is 13ft. x 9ft. x 7ft. high Currently, custom Swing Sets cannot be configured using this website. If you are interested in having us design your very own custom Swing Set, please

Check out our Premium Pine Wish List to start planning out your set right now!